IZNAJMLJUJU SE APARTMANI
***
KLIMA - Wi-Fi - TV - PARKING - GRILL - 150m OD PLAZE, CENTRA, MARINE, SUPERMARKETA, RESTORANA... I TO TRAJE 5 MINUTA UGODNOG HODANJA.
Cijena u predsezoni (01.01. do 31.06.) = 35 Eura
Cijena u sezoni (01.07. do 31.08.) = 50 Eura
Cijena u postsezoni (01.09. do 31.12.) = 35 Eura
Za sve ostale informacije razervacije apartmana molimo upitati na e-mail(darijoganic1@gmail.com) ili na broj mobitela 00385 98/745 767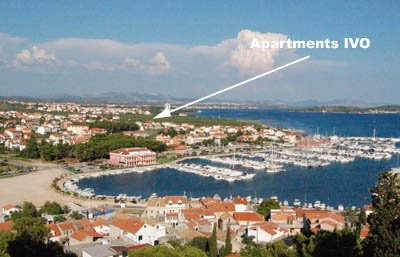 APARTMENTS FOR RENT
***

We offer five apartments each is suitable for four persons.
AIR CONDITION - Wi-Fi - GRILL - PARKING - 150 m BEACH, CENTER, MARINA, SUPERMARKETS, RESTAURANTS... ALL WITH IN FIVE MINUTES OF THE APARTMANT.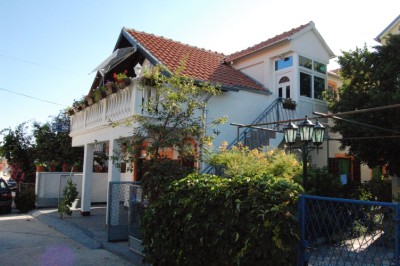 U svakom apartmanu nalazi se dva bracna kreveta za 4 odrasle osobe. Blagavaonica i kuhinja(opremljena s kompletnim posudem). Wc s tus kabinom i tv.

In each apartment there are two double beds for 4 adults person. Dinning room and kitchen (with complite disches). Bathroom and tv.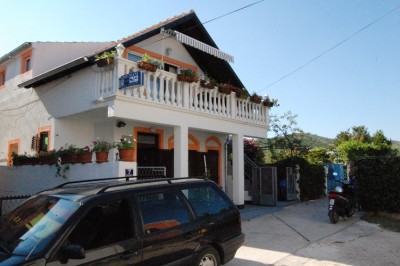 Svaki apartman ima vanjski stol i cetiri stolice (tarasa).

Each apartment has outdor table and four chairs (terrace).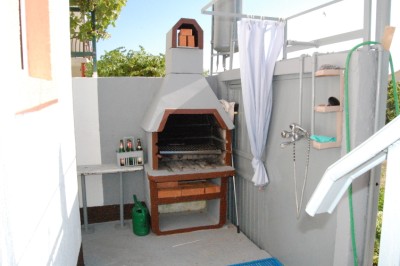 Rostilj i vanjski tus.

Grill and outside shower.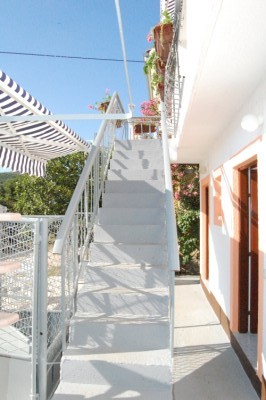 Apartmani su smjesteni u mirnome dijelu Tribunja, tako da se mozete kvalitetno odmoriti u miru.
The apartments are situated in a peaceful area in Tribunj, so you holiday will be peaceful.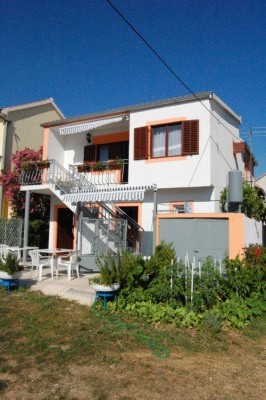 Vas auto je siguran na vlastitom parkiralistu iza kuce. Ali takoder mozete parkirati u sumi koja se nalazi 50 metara iza kuce i pruza vam hlad.

Your car is safe on private parking behind the house. But you can also park in the shade wich is located 50 metars from of house.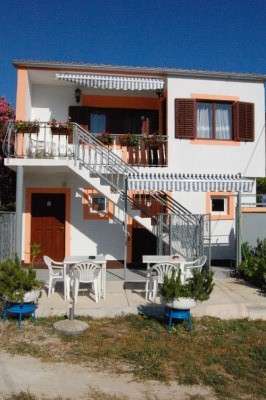 Pozivamo vas da provedete svoj odmor u prekrasnome malom ribarskome selu Tribunj kraj Vodica.
We invite you to spend your holidays in a beautiful
small fisherman willage
Tribunj
near
Vodice
in Croatia.
Vrijeme na dan dolaska u apartmane: poslije 12:00h
Vrijeme na dan odlaska iz apartmana: do 10:00h
Način plaćanja: akontacija 100 Eura uplatiti na račun, ostatak u gotovini po dolasku u apartman.
Time
on
the day
of arrival
: after
12
:
00h
Time
on
the day of departure
: until
10
:
00h
Methods of payment
: deposit
of 100
Euros
to the account
,
the rest in cash
arrival to our apartment
.