We invite you to spend your holidays in a beautiful
small town Vodice in Croatia.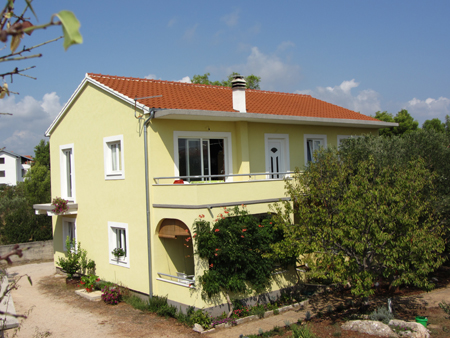 House is situated on east part of Vodice close to Hotel complex Imperial
and some 400m from beach,
20 minutes of pleasant walk to reach Vodice center.
All apartments are on ground floor
and suitable for small children (garden lawn 800m2) .
The house has good termal insulation so airconditioner is not needed.
We offer 2 apartments:

Apartment 1 (ground floor) for 2+1 persons
One bedroom, kitchen with diningroom, bathroom and terace
GRILL - PARKING
Apartment 2(ground floor) for 4+1 persons
Two bedrooms, kitchen with diningroom, bathroom and terace
TV - GRILL - PARKING
PRICE LIST 2012 in EUR
Persons
DATE
2
3
4
5
till 1.6.
20 €
25 €
35 €
40 €
1.6. – 30.6.
25 €
30 €
40 €
45 €
1.7. – 15.7
30 €
40 €
60 €
65 €
16.7 – 20.8.
40 €
45 €
65 €
70 €
21.8 – 31.8.
30 €
40 €
60 €
65 €
1.9. – 30.9.
25 €
30 €
40 €
45 €
from 1.10.
20 €
25 €
35 €
40 €